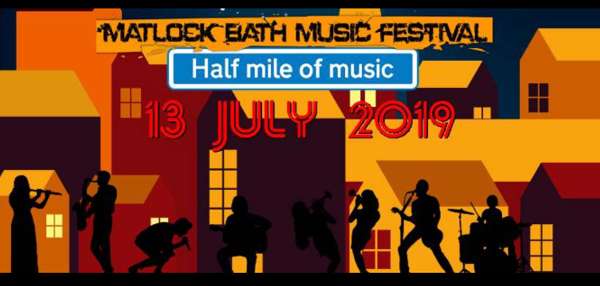 5 Hills Out have been invited back to the fantastic Matlock Bath Music Festival for 2019. This year we will be playing at The Midland, join us and host of other great bands. As always every year MBMF have a fine line up filled by acts like Frank, Damn Cargo, 5 Hills Out, Boatsontheocean and The Bagatelles and a lot of the solo spots are filled by great performers like Ben Miles Rocks, Andy Page and Tilly Greentree Music.
Drop them a message at mbmf@live.co.uk
HalfMileOfMusic
Line Up
5 Hills Out are a 5 piece folk punk band from Derbyshire, formed in 2014.  Inspired by activism and change the band mix folk with punk, incorporating accordion, saxophone, guitars, mandola, bass and drums into their passionate and crafted sound. The band perform fully stripped down acoustic sets using percussion, or can happily crank up the volume with electric guitar and drums. Their songs are inspired by activism, the environment and community, their sets pull in the crowd to join them in their rallying cries of protest and reform.  5 Hills Out sound is energised by their eclectic influences taken from the likes of The Levellers, Richard Thompson, New Model Army, X-Ray Spex and Gogol Bordello.  After the success of the bands performances at YNOT Festival, the band were invited to perform on the Live and Upcoming radio show by Phantom Media.  The band played debut songs from their forthcoming EP 'No Way In', now available on all good music download platforms.
View Profile